Dear Friends,
The invitation above comes from the theme of this year's Family Camp weekend at the Barbara C. Harris Camp and Conference Center. It refers to more than an invitation to go swimming in the lake. The full title for the weekend is this: Jump In! The Water is Fine: An Invitation to the  Baptismal Life. Amidst all the fun of the weekend will be some reflections on what it means to live out our baptismal vows.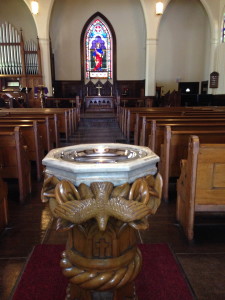 It is an invitation for a delightful weekend at camp. As we approach Easter,  it occurs to me that it is also an appropriate, if unconventional, invitation to enter into the whole Easter season. In the early church, the weeks leading up to Easter were a time of intense preparation for those preparing to be baptized. A central part of the Great Vigil of Easter was and is the Renewal of Baptismal Vows for those already baptized, and the Sacrament of Baptism for those newly entering the Body of Christ.
Here at St. John's, the Easter season will be a time for us to reflect on what it means for each of us to be baptized, and how we can live out our vows through all that this community offers us.  And, if you have not been baptized, or have children you wish to bring to the font, please consider this season ahead as an especially appropriate time for this sacrament. See the article below for specific dates, and do let me know if baptism for you or family members is something you want to explore.
It may involve a leap, or a jump, and it is a decision that takes some prayer and preparation. But the water is more than just fine. It is invigorating, it is transforming, and it is life-giving.
Faithfully,
Tom