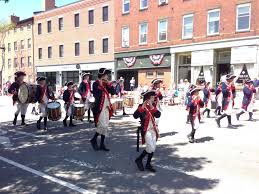 Dear Friends,
There's a parade on Sunday. We once again have come to Bunker Hill Day, and the parade will wind its way through the streets of Charlestown. Streets will be blocked off, people will line those streets and some of us may even be marching.
It is a historic and much beloved event. But the fact is, every week there's a parade on Sunday. Have you ever thought of gathering for Sunday worship as a parade? Or, if not a parade, at least as a procession?  Each of you, as you prepare yourselves and come to church, is part of the procession of God's people, gathering to offer praise and thanksgiving to the Holy One who calls us together.
Occasionally on Sunday mornings, as I am preparing myself for worship, I take delight in imagining each of you coming from your various homes. Whether you walk, drive, or ride your bicycle, you have joined a procession. You are part of the parade. And that parade culminates in the uniting of our voices as we sing the opening hymn.
It is a very long parade. It is not limited to those of us who gather this Sunday in this place. We join with faithful people  everywhere, past, present, and even future, who are part of the procession.
You can hear the invitation to the parade in the words of the psalmist, written long ago. Perhaps this invitation is one we can keep in mind this Sunday, and every Sunday, as we make our way to worship:
I was glad when they said unto me,
"let us go to the house of the Lord!"
Our feet are standing
within your gates, O Jerusalem.
Jerusalem – built as a city
that is bound firmly together.
To it the tribes go up,
the tribes of the Lord,
as was decreed for Israel,
to give thanks to the name of the Lord.
 Psalm 122:1-4
Faithfully,
Tom