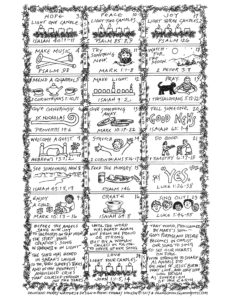 Dear Friends,
I have been eagerly hearing your stories of all that has been accomplished while I was away on my sabbatical. At the same time, I find myself looking forward. Advent approaches! For the Christian community Advent means, among other things, the beginning of a new liturgical year.  On the first Sunday of Advent, December 3, we will begin a new cycle of scripture lessons in our Sunday liturgies. Our gospel lessons will be drawn primarily from the Gospel of Mark.
Advent is also considered a season of preparation. Familiar to many of us is the idea of preparing for the celebration of the birth of Jesus. The readings and hymns of the season, however, will also ask us to anticipate and prepare for the return of Christ, not as an infant, but as the one who comes to fulfill God's reign, addressing us all with his profound and mysterious combination of judgement and mercy.
For me, a longstanding tradition of the Advent season is the creation of an Advent devotional calendar, which has been a collaborative project with my friend and colleague, Merry Watters, for over 25 years. You can find and download this year's calendar at my website here.  It will also be available on cardstock at the church over the next several weeks.
As I have done for the past several years, I will be sending out  by email a daily reflection on each day's scripture and suggested devotion. If you have received it in the past, you will be getting it this year, and I will be sending out the parish email list as well.  My hope is that it will be one way in which we can make the Advent journey together. On that journey, we will approach both the babe in the manger and the one who, "in such form as none would guess, will surely come to judge and bless."
Faithfully,
Tom