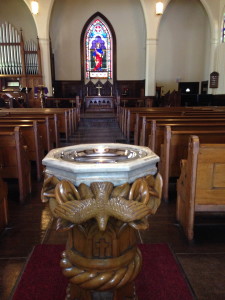 Baptism Guidelines
Holy Baptism is a sacrament of the Church in which persons are welcomed into the community of faith. Through baptism, we understand that God makes us brothers and sisters in Christ's body. Baptismal candidates, or parents speaking on behalf of infants, are promised the support of a community of faith, even as they make promises to live as followers of Jesus Christ.
PREPARATION FOR BAPTISM
Since baptism is an outward and visible sign of bringing persons into relationship with God and with the church community, we ask that those interested in baptism for themselves or their children attend worship on a regular basis to familiarize themselves with the St. John's community.
Before a date for baptisms can be scheduled, interested persons should schedule an appointment to meet with the rector for instruction about the meaning of baptism for themselves or for their children. Baptisms are a part of the community's public worship. The Episcopal Church customarily celebrates baptisms on particular days during the Church year:
The Sunday of the Baptism of the Lord (the First Sunday after January 6, the Feast of the Epiphany, usually the second Sunday in January)
The Great Vigil of Easter (an evening service the night before Easter)
The Sunday of Pentecost (the Sunday 50 days after Easter)
All Saints' Sunday (the first Sunday in November)
In certain circumstances, baptisms can be scheduled on other Sundays of the year.
There is no fee for baptisms, but offerings of gratitude are gratefully accepted. Thank you for your interest. You can reach the rector, the Rev. Thomas Mousin, at rector@stjohns02129.org or by contacting the church office.
You can download and print this information here: Baptism Guidelines