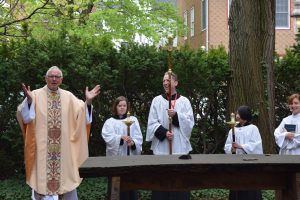 St. John's and B-SAFE: Check out the Featured Post at the bottom of this page to see our folks providing food and fun for over 80 summer campers.
Join us for 8 am Worship in the Garden
One of the treasures of St. John's is the Cutler Memorial Garden. Tucked behind the church and the Parish House, this beautiful spot offers a place for quiet meditation and is open at all times. During the summer, our 8 am service meets around the outdoor altar, weather permitting. Whether you are new to St. John's or a longtime member, consider joining us in the quiet and beauty of this space on summer Sundays.
THANK YOU FOR VISITING OUR WEBSITE!
We hope you will get a glimpse of our life together here. We are a community whose life and purpose is shaped by the love of God, the call of Jesus Christ, and the power of the Holy Spirit. A vital presence in our city since 1840, we are currently celebrating our 175th anniversary as a parish. We cherish the gifts of members who have been here all their lives, and take delight in all the gifts that the newest among us share.
Discover even more about what God intends for you by joining us in our worship, our work, and our witness.